Suzann Pettersen named 2023 European Solheim Cup Captain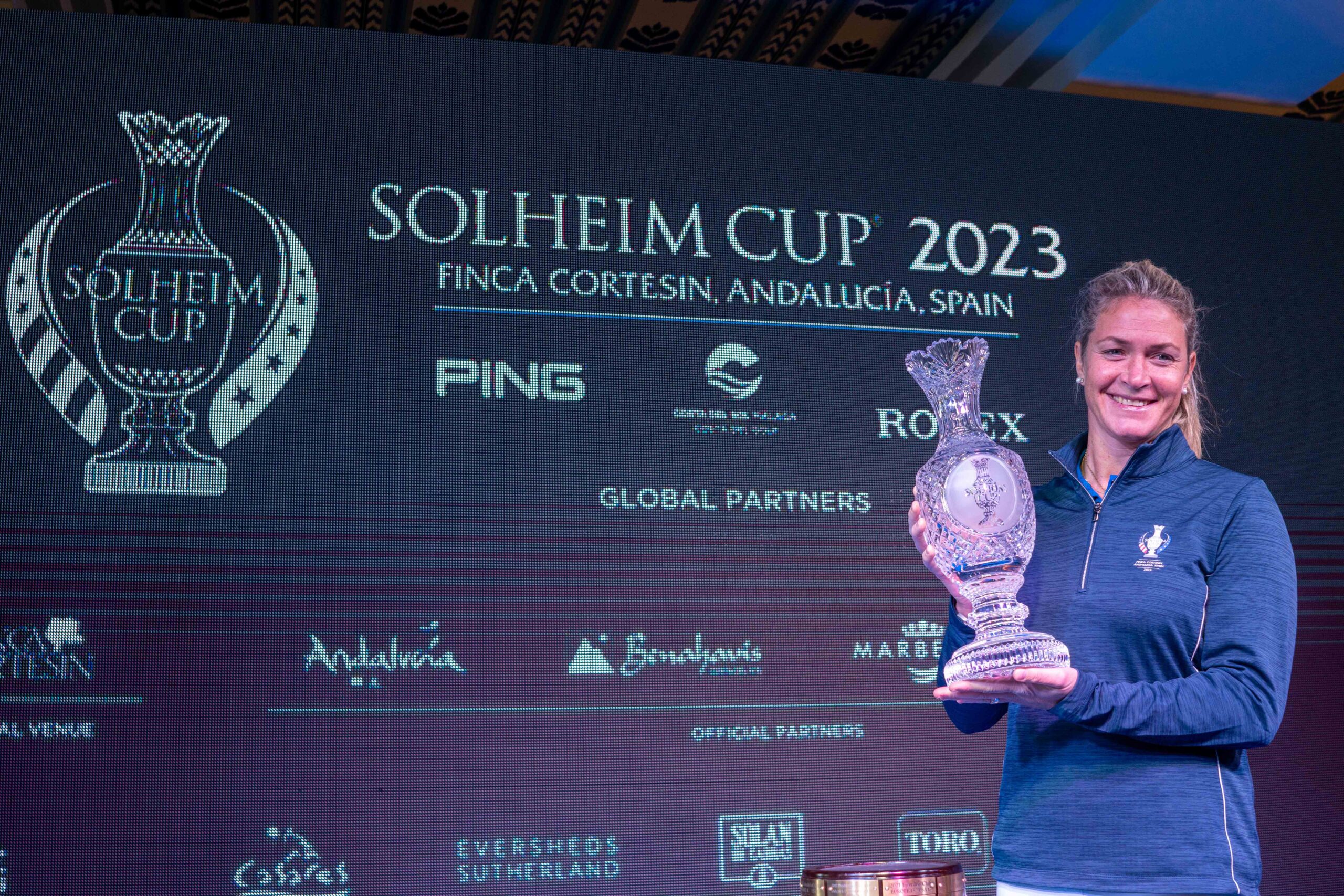 Norwegian star to lead Team Europe at Finca Cortesín, in the heart of Spain's Costa del Sol
Pettersen: "This is the biggest honour of my career"
November 29th, 2021
Norwegian Suzann Pettersen has today been named as the European Captain for the 2023 Solheim Cup, during an official venue handover and press conference at Finca Cortesín, in the heart of Spain's Costa del Sol, Andalucía, where the next match will take place from September 18-24, 2023.
The two-time Major champion is synonymous with the Solheim Cup, having represented Europe nine times as a player and twice as a vice-captain. She has been part of five triumphs, including the past two victories at Gleneagles in Scotland and at Inverness Club in Ohio.
At the 2019 Solheim Cup at Gleneagles, following an 18-month maternity leave, she was chosen by Catriona Matthew as a captain's pick and, when the match came down to a seven-foot birdie putt on the final hole on Sunday under the ultimate pressure, Pettersen famously drained it to bring the Cup home to Europe for the first time since 2013. The 14.5-13.5 victory tied for the closest winning margin in Solheim Cup history and she retired from competition immediately afterwards, saying "It doesn't get any better than this."
In September this year, following the arrival of her second child, Pettersen returned to serve as a vice-captain under Matthew when Team Europe beat Team USA 15-13 to win for only the second time on US soil. Her first experience of being a vice-captain was at the 2017 Solheim Cup at Des Moines Golf and Country Club in Iowa, when she served under Annika Sorenstam. Pettersen had been due to have a playing role but due to injury, she swapped roles with Matthew just before the contest began.
As a player, Pettersen made her Solheim Cup debut at Interlachen Golf and Country Club in Minnesota in 2002, during her rookie year on the Ladies European Tour.  She played in the next seven editions, helping Europe to victory in 2003, 2011 and 2013, before returning in 2019 for a starring role when she holed the winning putt, which she rates as the greatest putt of her career.
The former Rolex Women's World Golf Rankings Number Two has collected 21 professional titles across the LET and LPGA Tours, including Majors at the 2007 McDonald's LPGA Championship and the 2013 Evian Championship, yet her most cherished memories have been forged when playing for passion, pride and friends in the Solheim Cup.
"I am simply thrilled to be named Solheim Cup Captain. This is the biggest honour of my career," Pettersen said.
"My best golfing memories are from the Solheim Cup. You are out there with your team mates, your friends, and you all work for one goal. You fight for your friends and you share incredibly precious moments.
"I have played with and under many wonderful captains since I made my debut in the competition 19 years ago. Every Solheim has been special in its own way. You make friendships for life and memories you'll never forget.
"Every captain is different and brings their unique skills to the table. I am very much looking forward to bringing my experience to the role and working hard over the next 22 months to defend the Cup on Spanish soil."
Speaking at the press conference, Alexandra Armas, chief executive of the Ladies European Tour, said: "We are delighted that Suzann has accepted the role of captain for the 2023 Solheim Cup. She has been the heart and soul of the European team for almost 20 years and, with 21 points earned from nine appearances, her record speaks for itself. With her passion for the Solheim Cup, her love for the game of golf and her competitive fire, she will be an inspiration to the team and to fans around the world."
The heads of the Andalusian Government (Junta de Andalucía) and the Costa del Sol Tourist Board (Turismo Costa del Sol), the main supporters of the 2023 Solheim Cup project, highlighted the importance of having such a recognisable figure leading Team Europe.
"Today is an historic day for Andalusia, for the community and for the golf industry at a national level," said Manuel Muñoz, Secretary General for Tourism of the Junta de Andalucía. "We are one more step closer to the Solheim Cup, a milestone which, as we have seen with the Ryder Cup of 1997, will mark a before and after for golf in Andalusia and in Spain.
"Sport is about emotion and even more so in a format as exciting as matchplay in the Solheim Cup. Andalusia is all about sharing emotion, experiences and joy, so we couldn't be happier to welcome Suzann Pettersen as the perfect captain for the 2023 Solheim Cup."
The President of Turismo Costa del Sol, Francisco Salado, said: "Now we can finally say that our dream for the Solheim Cup has come true. Although we could not be in Ohio due to the travel restrictions, we are here today with our new captain at the course where the 2023 Solheim Cup will be played.
"Today, we at Turismo Costa del Sol are more convinced than ever of the importance of continuing to promote women's golf, which for our destination is especially interesting because women golfers spend more and enjoy a wider range of activities when they travel. In short, it is a long-term investment.
"The dream of having the Solheim Cup played on the Costa del Sol is getting closer and we are looking forward to welcoming everyone here to celebrate with us in two years' time."
"It is a great honour to host the 2023 Solheim Cup and this handover ceremony, which has also served to announce the next Team Europe captain. Finca Cortesín's vocation has always been to be a benchmark in the luxury resort segment and the Solheim Cup provides us with an ideal platform to continue fulfilling this objective," said Vicente Rubio, Managing Director of Finca Cortesín.
"The 2023 Solheim Cup is the most important women's golf event in the world and the culmination of a journey that we started by hosting other competitions of the highest level. In it we will demonstrate our commitment to excellence, which will undoubtedly be enjoyed by those who visit us from September 18-24, 2023."
More information at www.solheimcup2023.eu, @SolheimCup2023 (Twitter), @SolheimCup2023esp (Instagram) and Solheim Cup 2023 (Facebook).
Notes to editors:
About The Solheim Cup 
The Solheim Cup combines the tradition and prestige of the game of golf with passion for one's country and continent. This biennial, trans-Atlantic team match-play competition features the best European players from the Ladies European Tour (LET) and the best U.S. players from the Ladies Professional Golf Association (LPGA) Tour.
Held every two years, the event has grown into the most prestigious international women's professional golf team event. The Solheim Cup is the most highly coveted trophy in women's professional golf team competition; some of the most memorable moments in the sport have happened during past Solheim Cups and berths on the European and U.S. teams are highly sought-after by players from both organisations.  The Solheim Cup is named in honour of Karsten and Louise Solheim, the founders of Karsten Manufacturing Corporation, which makes PING golf equipment.
The first Solheim Cup was staged in 1990, with the latest 2021 Solheim Cup having taken place on September 4-6 at Inverness Club in Toledo, Ohio. The European Team retained the trophy by 15 to 13 points. Team USA currently hold a 10-7 lead heading into the 2023 Solheim Cup.
The 2023 Solheim Cup will be staged at Finca Cortesín in Spain from September 18-14, with PING, Costa del Sol and Rolex as Global Partners; Andalucía, Acosol, the Marbella City Council and the Benahavís City Council as Official Partners and Deporte & Business as Host.
About Deporte & Business
Deporte & Business is a company specialised in organising sport events. Professional women's golf has been its main focus for the last two decades, staging more than 35 Ladies European Tour events (Spanish Open, European Nations Cup and Mediterranean Ladies Open, among others). Deporte & Business also promotes LET Access Series events and the Santander Golf Tour, the Spanish national women's golf tour.
About the LET
The LET inspires women and girls to pursue their passion and realise their potential through the game of golf. At our core, we aim to build and deliver an extensive competitive schedule of events to enable our strong, energetic, proud, and confident players to compete at the highest level, pursue their dreams and lead by example. Our diverse and multicultural membership of 316 professional golfers represents as many as 36 countries. We are a global tour with roots in Europe. We aim to entertain and excite, but also to enhance health and quality of life, as a responsible, committed and respectful partner.
Inspiring – our players are inspiring role models to follow and encourage others to pursue their own dreams.
Passionate – we are driven by a passion to perform to our full potential and get better every day. It's not just about the money or the glory, but a true love for the game.
Committed – we are fiercely committed to continuous improvement and recognise the grit that it takes to achieve long-term goals.
2021 marks the 43rd season of golf tournaments since the professional tour was founded in 1978 and marks the second edition of the Race to Costa Del Sol. This year's schedule includes 25 events in 16 different countries, including the Summer Olympics and the Solheim Cup, and a record-breaking prize fund of €19 million.
The LET Access Series is the official development tour of the LET, formed to give players an opportunity to compete and progress onto the LET and achieve their dreams in professional golf.
Ladieseuropeantour.com #RaiseOurGame